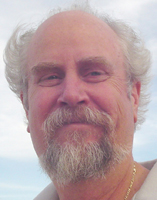 D.T. La Vercombe
American
b.1952-
Born in Michigan, I showed an early aptitude for the visual arts. Growing up between Michigan and the Ohio river valley in northern Kentucky, I developed a great appreciation for my natural environments. I drew and cartooned my way through high school. But as most baby boomers, I wanted to be a rock and roller. When I became painfully aware that I was not a rock and roller, I discovered my passion; oils and canvas! They have been part of my world since 1969. Oh, I have played around with other mediums; illustrations, egg tempera, sculpture, the culinary arts. What ever the medium and how ever long I have set aside, the oils and canvas, I always came back. I have raised kids, had jobs, run graphic studios, owned movie theatres and restaurants, through it all, the sweet smell of linseed oil and turpentine season it all. Colored by the richness of the oil palette I have painted my way through life. These pages represent a large portion of that body of work which measures my life. At the right there is a slide show of a catalog of my work. It is a work in progress. Some of the images are less perfect, old slides and photos from pre-digital days.

I will be updating this slide show and site to reflect new painting. Use the links at the top to navigate the site. Most of the paintings are for sale if they say "artist collection". Many others are available in Giclee prints. I hope to have some shows coming to the north east Florida area soon, I will keep this site updated.
Thanks for stopping by! Come back often. . .

©1973-2009 D.T. LaVercombe all rights reserved